Shopping Tips for Wine Stemware Serving Trays
Wine stemware serving trays are the perfect way to serve wine to your guests with elegance and ease.
Choosing Serving Trays for Wine Glasses
Although there are multitudes of serving trays available, serving trays specific to stemware is somewhat limited. Don't let this fact deter you on your quest for the perfect wine stemware serving tray. Instead, get creative and choose a serving tray that can be re-purposed into a wine stemware serving tray.
Tray Features to Consider
When you are considering serving trays for stemware, there are a few key points that you have to keep in mind before making your purchase.
Center of gravity - Sounds complex, but it isn't. Stemware is top heavy, meaning, it has a higher center of gravity than highball glasses, snifters or stemless wine glasses. Due to this fact, stemware has a higher likelihood of tipping over on the tray. To lessen the chances of tipping, choose a serving tray with a smooth flat bottom.
Handles - Be sure to choose a serving tray with handles on the sides. These handles make it easier to move the tray from one location to another.
Size - When choosing which size tray you would like, keep the type of stemware you will be using in mind. This is important because the bowl of a red or white wine glass is larger than the stem and base. Choose a larger sized tray for versatility in use.
Shape - Round, square, rectangular or oval, the shape of your stemware serving tray is really a personal preference. The only thing you should keep in mind when choosing a shape is to make sure that the bottom of the tray does not slope seamlessly into the sides. If you have a tray full of wine glasses and accidentally set one on the sloped edge of the bottom, that glass may tip into the other glasses, causing a domino effect and tipping all of the glasses on your tray. No one likes to see good wine go to waste, so choose a stemware serving tray with a definitive bottom edge to prevent this possible disaster.
Types of Stemware Serving Trays
Wooden Trays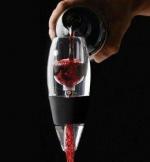 For more gift ideas for the wine lover... watch this slideshow!
Wooden stemware serving trays are perfect for serving wine at barbecues and picnics.
Wood and metal tray - This embossed tray has a smooth flat bottom with lovely metal accent handles.
Distressed wooden tray - Painted in a neutral cream shade, this tray has been distressed to give it a worn, vintage look.
Metal Serving Trays
Crystal and Porcelain Trays
Crystal serving tray - With a diamond crystal design, this serving tray is a beautiful way to serve your stemware.
White porcelain serving tray - With a bright white porcelain bottom and large handles, this tray is gorgeous in its simplistic design.
Final Advice About Choosing Wine Serving Trays
Buy two types of stemware serving trays - Choose an elegant porcelain or metal tray design to use at your next formal dinner party and a simple wood tray for your next cookout.
Keep the party venue in mind - You will want to steer clear of glass and porcelain stemware serving trays for pool or outdoor parties where the tray can be accidentally dropped. When glass and porcelain breaks, the pieces tend to "jump" and if your partygoers are barefoot, these little pieces can lead to nasty cuts.
Let your personal tastes dictate your decisions - There is no rule stating that a $20 bottle of cabernet sauvignon can't be served from an expensive ornately designed tray, nor is there a rule stating that a $100 bottle of Barolo can't be served from an inexpensive wooden tray. Let your personal design tastes be your guide when choosing a stemware serving tray, not the price of the wine.