Photos and Info for 9 Types of Fruity Red Wine
Flavorful Fruity Wines
Wine is so subjective that the types of fruity red wine varies depending on a person's palate. What one person thinks is fruity, another may not. Many people get the term fruity confused with the term sweet. Often, when a person is looking for a sweet red wine that is not a Port, what they are looking for is a fruity red wine. If this describes you, here are a few of the types of fruity red wine on the market today.
Gamay
Vintners use the Gamay grape to make Beaujolais and Beaujolais Nouveau. This wine is light bodied and bursting with fresh cherry flavors.
Malbec
Malbecs display the fruitiness of summer ripened blueberries with a hint of spice. For a great Malbec at a great price, try Altos Las Hormigas served slightly chilled.
Syrah
Dolcetto
This Italian wine is definitely dominated by fruit such as vine ripened strawberries and sun-kissed plums. Translated from Italian, Dolcetto means "little sweet one."
Lambrusco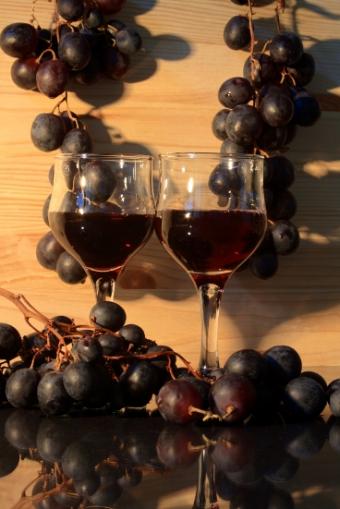 Lambrusco is a classic Italian red that has flavors of fresh cherries and ripe strawberries.
Sangiovese
A non-blended Sangiovese is light bodied with forward fruit flavors of black cherries, mulberries and pomegranate. Older Sangioveses are a bit less fruity and take on slightly leathery flavor characteristics.
Beaujolais
You don't have to wait until Beaujolais Nouveau Day to enjoy this light bodied full-of-fruit wine. Many wine snobs dislike Beaujolais Nouveau, but if you're looking for a fruity wine, this is definitely one of them.
Carmenere
Pronounced Car-mun-yay, this wine varies in terms of fruitiness, depending on the drinkers palate. A good Carmenere displays flavor characteristics of dried raspberries with a hint of chocolate.
Garnacha
This wine has more of the dried, dark fruitiness to it. Think of sun dried cherries with a touch of earthiness when you think of Garnacha. Garnacha is from Spain while its counterpart, Grenache, is from France.
This is just one of may delicious fruity reds you can try. Need more suggestions? Head to your local wine shop and ask the properietor. Wine sellers are usually happy to make recommendations of wines they love.