Thanksgiving Dinner Wine Pairing Charts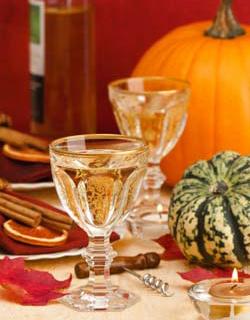 Properly pairing food and wine can enhance your experience of both. Thanksgiving dinner can be one of the hardest wine pairing days of the year because of the variety of foods served. Fortunately, there are many wines that pair quite well with turkey and all of the trimmings at Thanksgiving dinner.
Successful Thanksgiving Wine Pairings
What often works best with the varied foods at Thanksgiving are versatile medium-bodied, accessible red and white wines. Since everyone typically sits down family style, Thanksgiving meals quite often only have the main course and dessert, although sometimes appetizers are offered before everyone sits. Offer several styles of wine to your guests with the entire dinner or offer different wine pairings for each course if you opt for that serving style.
Each of the wines below will go with the entire main course of a traditional Thanksgiving meal, from the turkey and stuffing to the sweet potatoes.
Champagne and Sparkling Wine
One of the great thing about Champagne and other sparkling wines is their versatility. Because many are made from the red wine grape, Pinot Noir, they have enough gravitas to pair with heavier dishes, but remain light enough that they don't overpower lighter fare. Likewise, Champagne and sparkling wines have a celebratory feel to them, making them the perfect dinner pairing. Champagne makes also makes a great apéritif to pair with appetizers.
Pinot Noir
Pinot Noir is a medium-bodied red with subtle fruit flavors and a delicious earthiness. The tannins in the wine cut through the rich and fatty flavors of turkey, stuffing, and gravy during your main meal.
Rosé
Rosé wines are great food options because they are usually ultra-low in alcohol, and they have a nice non-tannic, fresh fruitiness to them. They are quite reasonably priced; you can find a good bottle for under $20. Rosé wines are a good halfway between a red and a white, which allows them to pair with all of the foods on your Thanksgiving table. Try any of the following:
Grenache
Grenache is a medium-bodied red found in wines from France's Rhone region and Spain's Prioriat region. Grenache-based wines are fruity and earthy with a hint of smoke. The smoky and earthy flavors of Grenache go well with common Thanksgiving herbs like sage, rosemary, and thyme, which means it will work with your entire meal.
Riesling
While Germany makes champion Riesling, you can also find quality versions from producers in the United States, Austria, and Australia. Riesling wines work well because they have a nice balance of sweetness and acidity that complements your entire Thanksgiving dinner, as well as any appetizers you choose to serve.
Dessert Wines
Many sweet wines also work well with Thanksgiving desserts. Try any of the following:
Wine Shop Help
Your local wine shop staff can also help you pick out a great Thanksgiving wine. With a little wine education and a sense of adventure for trying new things, you're sure to find the perfect wines for your Thanksgiving meal.