A Closer Look at Rosemont Wines and Winery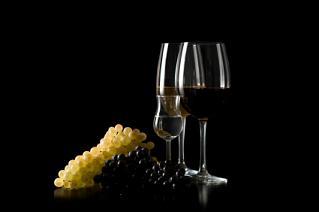 Not to be confused with Australia's Rosemount wine, Rosemont wine is made at the Rosemont winery nestled in the lush countryside of Virginia.
About Virginia Wineries
The state of Virginia may not be as well known for producing wine like California or Washington, but the history of wine making in one of the original 13 colonies in the United States goes back for over a century. In fact, the state of Virginia was growing and producing wine grapes for over 150 years before the first grapevines in California were even planted.
Many of the wineries that are peppered all over the state are housed in old buildings that have been renovated, making a visit to Virginia wine country very unique. You can enjoy a few glasses of great wine and learn a little bit of United States history while you're at it!
Rosemont Winery
Owned by the Rose family, Rosemont began as a 450-acre family farm back in 1858. Generations of Rose's raised cattle and grew various crops on the farm for 145 years. In 2003, the family members decided to turn the farm into a winery, planting over 16,000 grapevines that include the following varietals:
Cabernet Sauvignon
Chambourcin
Catawba
Vidal Blanc
Cabernet Franc
When the vines were well on their way to becoming big, beautiful wine grapes, the Rose's began building the winery in 2006. They officially bottled their first wine, Rosemont of Virgina, in 2007 and opened up the doors of the winery to the public in 2008.
Visiting the Winery
The Rosemont winery currently features tastings seven days a week. They accommodate private parties, weddings and have a wine shop on site. Other amenities of this small winery include:
A picnic area - Bring a blanket, pack a lunch and enjoy the country views of this beautiful wine estate while sipping on a bottle of wine.
Light food such as various cheeses and crackers - The winery also has a few offerings of different meats to go along with your cheese and wine.
Rosemont offers daily tastings in their wine tasting room and also has regularly scheduled events such as outdoor concerts and their "Wine in the Pines" nature trail wine tasting. If you can make it to Virginia between August and the end of September, you can enjoy the number of wine festivals that occur throughout the state. You'll find Rosemont wines at the annual Wine and Harvest Festival.
Construction is currently underway to accommodate overnight guests and the winery welcomes children and pets.
Rosemont Wine Selection
The Rosemont wine collection includes four whites, one rose and five reds:
The Whites
Here are Rosemont wine offerings in white:
Traminette - Similar to the characteristics of a Gewürztraminer, the Traminette is described as acidic with a fruity apricot finish with hints of honey and just a bit of spice.
Vidal Blanc - This off-dry wine presents balanced acidity with tropical fruit flavor characteristics.
Pinot Grigio - Crisp citrus fruit flavors.
LaCrosse - A sweet and creamy dessert wine with ripe melon aromas.
The Reds
Here are a few tasting notes for the blush and red wines offered by Rosemont:
Cabernet Sauvignon - Dried raspberry and currant flavor characteristics.
Merlot - Mellow ripe cherry flavors and aromas that have just a slight hint of spice.
Syrah - Light bodied with bright cherry flavors.
Cabernet Franc - Lighter bodied than the Cabernet Sauvignon, the Cabernet Franc displays forward fruit flavors with a just a bit of vanilla.
Rose - This blush wine displays crisp and tart cranberry flavors with soft rose petal aromatics.
All the bottles offered by Rosemont are moderately priced, under $20 per bottle. Unfortunately, the website for the winery and vineyard is still under construction, so you can't yet purchase the wine directly from the winery. So, if you get a chance to visit Virginia, stop by at Rosemont because after all, "Virginia is for (wine) lovers."