Award-Winning Kendall-Jackson Winery and Wines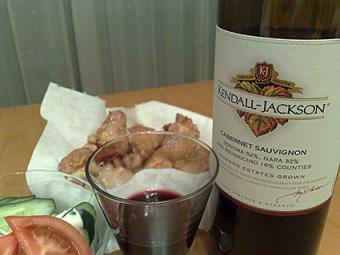 Located in Santa Rosa, California in the heart of Sonoma Valley wine country, Kendall-Jackson winery produces a variety of award-winning wines. Whether you are looking for an everyday red or something extravagant, this winery is sure to have something to match your taste.
Award Winning Kendall-Jackson Wines
Founded by Jess Jackson, Kendall-Jackson (K-J) winery has been family-owned and operated since the early 1970s. This winery produces a variety of wines on its estate vineyards that are all made with the high standards set first by Jess Jackson. In 2011, Wine And Spirits magazine named K-J as a Top 100 Winery Of The Year. Likewise, the Vintners Reserve Chardonnay has been served in the Reagan White House, and it is America's top selling Chardonnay.
Stature
Stature wines from Kendall-Jackson are estate wines, and Kendall-Jackson's highest quality wines. They make two wines on this tier:
Stature Santa Barbara County Chardonnay - The 2017 vintage of this Chardonnay sourced from the Neely Vineyard received a 93-point rating from Vinous. Expect notes of pineapple and papaya in a bottle that costs around $80.
Stature Sonoma County Cabernet Sauvignon - Robert Parker awarded the 2014 vintage of this wine 94+ points. This $100 bottle of wine is balanced and delicious.
Jackson Estate
Jackson Estate wines are grown on the family's estate vineyards. Expect wines in a moderate price range ($25 to $75), some that receive ratings in the low 90-point range from various wine critics. Varietals and types of wine you'll find in this tier include:
Rosé
Viognier
Riesling
Sauvignon Blanc
Pinot Blanc
Chardonnay
Pinot Noir
Syrah
Merlot
Cabernet Sauvignon
Grand Reserve
Kendall-Jackson's Grand Reserve wines are sourced from one or two vineyards. The wines are moderately priced ($25 to $40). Wine varietals include:
Chardonnay
Pinot Noir
Merlot
Cabernet Sauvignon
Grenache-Syrah-Mourvèdre
Ruby Port-style dessert wine
Vintner's Reserve
The Vintner's Reserve wines from Kendall-Jackson are the winery's flagship wines. With affordable pricing ($15 to $30 per bottle), these are the winery's everyday drinkers. Wines in this line include:
Pinot Gris
Sauvignon Blanc
Chardonnay
Riesling
Rosé
Pinot Noir
Merlot
Cabernet Sauvignon
Syrah
Zinfandel
Red wine blend (Syrah, Zinfandel, Grenache, Petite Sirah, Cabernet Sauvignon, Merlot, Sangiovese)
K-J Avant
K-J Avant is a lightly-oaked Chardonnay that is exceptionally food-friendly. It costs under $20 per bottle.
Purchasing Kendall-Jackson Wines
You can visit K-J's online wine-shop or browse the selection of wines available at your local wine store. Wines purchased online can be shipped or picked up at the winery.
Visit Kendall-Jackson
You can visit the Kendall-Jackson Wine Estate & Gardens at 5007 Fulton Road in Fulton, California or call 866-287-9818 to schedule a visit. While at the Center, you can meet award-winning chefs, explore the sensory gardens, and enjoy a mix of wines paired with food. The estate is open daily from 10 am to 5 pm. Tastings cost between $15 and $30 depending on the experience and the flight.
Join The Club
You can join the wine club and become a member to take advantage of member discounts and specials. There are two wine club options:
Signature: Enjoy simple varieties from collections such as Jackson Hills, Grand Reserve, and Vintner's Reserve. You will get four bottles three times per year for $110 to $150 per shipment depending on which you choose.
Estates: Receive six bottles three times per year for $160 to $245 per shipment.
Both clubs give you the choice of choosing between all reds or mixed wines. Members will receive benefits such as:
20% off all individual wine bottle purchase (25% off cases)
Seasonal wine discounts
Invites to member only events such as educational seminars, tastings, and festivals
25% off wine experiences
Enjoy A Variety of Wines
Kendall-Jackson offers a variety of wines in a range of prices and flavors. No matter if you are a novice wine drinker or a wine connoisseur, there is sure to be a wine to match your tastes.