Things You Want to Know About Fish Eye Wine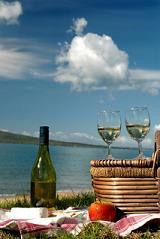 If you're looking for a good, inexpensive wine, give Fish Eye Wine a try.
About Fish Eye Wine
You've walked past a bottle of Fish Eye wine at your local wine merchant or grocery store a hundred times. It's the bottle with the bright colors and the fish on the front. You really can't miss it. It's the kind of label that jumps out at you when it is lined up with the other wine labels with more subdued colors. The bottles won't be lined up together, as Fish Eye offers six different varietals of wine priced between $7-10 per bottle.
LoveToKnow Wine Buying Tips
Don't Judge a Wine by its Price
Just because a bottle of wine is inexpensive doesn't mean it is going to taste bad. There are many great wines available under $25 per bottle.
What Fish Eye Says About Their Wines
When you visit the Fish Eye website, you can tell that they are all about having fun with wine. Here is a quick look at what the winery is saying about their product.
Cabernet- "Intense jammy fruit and ripe currant are accented with a background layer of cherry."
Merlot- "Juicy blueberries and ripe strawberries lure the palate into a meandering river of black fruits, spicy clove and lush plum."
Shiraz- "Generous ripe berry fruit leads to a lush, soft, balanced finish."
Chardonnay - "Mouth-watering pear, baked apple and tropical swirls of pineapple roll on your palate like a ship at sea." They also say that Fish Eye Chardonnay is "jubilant and zippy".
Sauvignon Blanc - "This lively Sauvignon Blanc swims with the best of them! Classic aromas of citrus, passion fruit and melon extend to flavors of grapefruit, figs and silky pear."
Pinot Grigio- "The aromatics in this bottle are like a tropical adventure in paradise!" The tasting notes are "a spirited and fresh infusion of ripe melon, apricot and white ginger…"
What Others Are Saying
Yes, the wine is inexpensive, so now you are wondering whether or not it's any good. Here's what people are saying about Fish Eye Wines at the websites Cheap Wine Reviews and Tastings.
Cabernet - Simple, fruity front-of-mouth flavors with a little hint of spice.
Merlot - Slight cherry and cola flavors with a plum nose. Two reviewers stated that the wine started off a little hot and metallic, but then those characteristics faded as time went on. It should be mentioned here that one of the reviewers served his Fish Eye Merlot at about 70° Fahrenheit. Even the best merlot would taste hot at that temperature!
Shiraz - Plum and blackberry flavor characteristics with soft tannins. Fish Eye Shiraz rated 84 out of 100 points.
Chardonnay - Simple flavor characteristic with citrus and earthy aromas. Medium-bodied with a clean finish. Rated an 85 out of 100.
Sauvignon Blanc - Tart citrus beginnings, finishing with honeydew and melon flavors. This review was given by W. Blake Gray from the San Francisco Chronicle.
Pinot Grigio - Medium bodied, well balanced and clean acid structure. Rated 86 points out of 100.
Wine in a Box?
Fish Eye launched a multi-million dollar advertising campaign for their boxed wine products in the beginning of 2007. The company offers 3-liter boxes of wine at a cost of $16 a box and claim that the wine will stay fresh for up to six weeks after opening. To test this claim, Wall Street Journal columnists Dorothy Gaiter and John Brecher conducted a six-week long experiment that included the Fish Eye Chardonnay, Shiraz and Pinot Grigio.
At the end of the six-week period, the two concluded that none of the wines tasted off or oxidized and proved that Fish Eye boxed wines stayed true to the company's claim of staying fresh for a month and a half.
Fish Eye Wines are All About Fun
Fish Eye wines are designed as fun, approachable wines. This is evidenced in their introduction on the Fish Eye website: "At Fish Eye, there's no pinkie raising, Brie eating, wine spitting gobbledygook. Oh no. Let the juice speak for itself."
In the end, Fish Eye wines may not be a top choice for wine connoisseurs and most likely won't be on the wine lists at fine dining establishments. They are not tuxedo-and-designer-dress wines, but they aren't meant to be. They are jeans-and-a-t-shirt kind of wines, meant to be enjoyed everyday at the beach and around the barbeque surrounded by good friends and great conversation.