DIY decorated champagne flutes are a great way to create a custom gift or just have fun making unique glassware for your home. Whether you're planning to decorate champagne glasses for a party or special event or just want one-of-a-kind, beautiful flutes, these fun and easy projects will get you started.
Gorgeous Glittering DIY Champagne Flutes
You can use glass champagne flutes for this sparkling project or use unbreakable plastic variations if you'll be using them outdoors. Either way, these make a perfect drink accessory for a bridal shower, quiceanara, or other important event. You can even make them in holiday colors for Christmas or New Year's Eve! If you use waterproof decoupage medium, you can hand wash these flutes.
Things You'll Need
Plastic or glass champagne flutes
Outdoor waterproof-formula Mod Podge decoupage medium, available at any craft store
Small foam brushes
Glitter in your choice of color
Paper plates or large trays
What to Do
Protect your work surface with a sheet of plastic or paper. Place a paper plate or large tray on the work surface to catch excess glitter.
Dip a foam brush in Mod Podge and begin applying a thin and even layer to the champagne flute. Cover the base, stem, and some of the bowl.
Hold the flute over the paper plate or tray and shake glitter over it. Turn the flute as you work to cover it evenly.
Set the flute on the table to dry and tap the plate or tray to return excess glitter to the container. Repeat the process with each flute you're making.
When the Mod Podge is dry, apply another layer over the glitter. Apply a third layer when the second layer is dry.
Champagne Flutes Decorated With Nail Polish
Who knew you had a beautiful and permanent paint option right at your fingertips? You can use nail polish to create custom decorations in any shape or design. These are great for parties, gifts, and bridesmaid presents. You can even decorate flutes as a group activity at a bridal shower, quiceanara, or other party. The resulting glasses are washable, but it's best to avoid the dishwasher.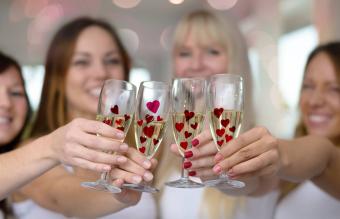 Things You'll Need
Champagne glasses
Nail polish in your choice of colors
Alternative brushes and tools, including cotton swabs, toothpicks, tiny artist brushes, and more
Waterproof sealant spray, available at any craft store
What to Do
Protect your work surface with plastic or paper. Remember, nail polish will stain just about anything.
Get creative painting hearts, stars, and other designs on the glasses. Avoid painting right near the rim, since it's better to leave this area clear for drinking. Use toothpicks, cotton swabs, and other alternative tools to create the type of design you have in mind.
Allow the nail polish to dry completely.
Spray each glass with a waterproof sealant spray to make it more durable. Allow it to dry before using.
Handmade Jeweled Champagne Glasses
Add some jewels to glass champagne flutes for a glitzy look. These make a great gift for friends, and they're the perfect way to glam up any party. Getting the gems placed just right can take a little practice, but once you get the technique down, these are fun and easy. You should hand wash the completed flutes.
What to Do
After protecting your work surface, use a toothpick to apply a few small dots of adhesive to the glass.
Carefully press the gems into the adhesive, working a section at a time. Avoid placing gems near the drinking surface.
When you are happy with your design, allow it to dry and move on to decorating the next champagne flute.
DIY Etched Champagne Glasses
Glass etching is a great way to get creative with your decorated champagne flutes. These designs are permanent and even dishwasher safe when you're done. You can etch glasses to personalize them for a custom wedding gift or special favor for a bridal shower.
Things You'll Need
Glass champagne flutes
Glass etching gel, available at any craft store
Printed black and white image of the monogram or design you want on the glasses
Carbon paper
Contact paper
Brush
Scissors or craft knife
Pencil
What to Do
Working in a well-ventilated space with the surface protected, start by making your custom etching stencil. You can print out a stencil design or monogram in black and white. Then place a sheet of contact paper on your work surface. Layer carbon paper over it and place the printed design on top.
Trace the printed design with a pencil. This will transfer it to the contact paper. Use scissors or a craft knife to cut it out.
Apply the contact paper design to the champagne flute, smoothing out any bubbles with your fingernail.
Following the directions of the etching gel, apply it over the contact paper stencil you made. Allow it to sit on the glass for the manufacturer-specified time and then wipe it off. Remove the stencil.
Where to Buy Decorated Champagne Flutes
If you're short on time and would prefer to buy your champagne flutes already decorated, there are a few places that specialize in this type of product. Consider the following:
Special Glasses Make Celebrations More Meaningful
Whether you decorate your own champagne flutes of a one-of-a-kind creative glassware option or purchase a pre-decorated flute from a speciality retailers, you'll love the extra touch these glasses add to any event. Even a simple celebration at home is more meaningful with a special glass.