4 Places to Find Decorated Champagne Flutes
Decorated Champagne flutes add a special touch to any occasion.
About Champagne Flutes
Most wine connoisseurs consider the Champagne flute the only way to go when it comes to enjoying a glass of the bubbly. The glasses are specifically designed to concentrate the nose of the Champagne and deliver it to the perfect spot on the palate. The shape of the flutes also allows the carbonation (the bubbles that give Champagne its nickname) to last longer. They're easy to find and range from the very expensive to the very inexpensive, so there is no reason why a set of Champagne flutes shouldn't be added to everyone's barware collection.
Types of Decorated Champagne Flutes
There really is no limit to the types of Champagne flutes adorned with delicate decorations that are available. Here are just a few examples:
Metal decorations - These Champagne flutes have metal adornments, usually pewter, on the stem or on the bowl of the flute.
Hand painted - Every type of design imaginable. You can also find places in which you can design your own personalized Champagne flutes.
Engraved - The most traditional and sophisticated decoration for Champagne flutes.
Printed Champagne flutes - Get your company logo, the bride and groom's names or anything you want printed on Champagne flutes to toast your next special occasion.
Where to Find Decorated Flutes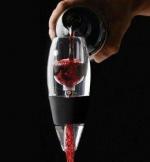 For more gift ideas for the wine lover... watch this slideshow!
Here are a few websites to browse for your next set of specially designed Champagne flutes. If you aren't ready to buy any glasses quite yet because you can't decide on the perfect design, the following websites will give a few great ideas as to the type of glasses and designs available.
Caring for Champagne Flutes
Champagne flutes alone are delicate, once you add a hand painted design or engraving to the glassware, it makes them even more delicate. To ensure your special flutes last for many years you need to care for them properly. This means:
Hand wash the glasses - These glasses must never go inside a dishwasher. Over time, dishwashers tend to etch and ruin the glasses. Moreover, the high temperature of the water will ruin hand painted designs.
Never use a scouring pad - There should be no reason to use one anyway, but, if that's the only thing available for washing out your Champagne flute, opt to gently rinse them out with warm water instead.
Lasting Memories
Champagne and Champagne flutes remind everyone of celebrations. Whether it's a wedding, an anniversary or a job promotion, toasting the occasion with a delicate clink of these tall and slender glasses is tradition. Decorated Champagne flutes make a celebration even more special. Specially designed Champagne flutes are a great way to commemorate a special occasion and provide a keepsake memento of the event. Whether it's a bachelorette party, wedding, anniversary, graduation or retirement party, these flutes are a perfect way to toast the guests of honor.