Best Gift Wine Suggestions
Giving the Gift of Wine
If you have a hobby that you're really into, chances are at Christmas time some people fear that if they give you something you'll already have it, or that since everyone gets you things for your hobby, they get you something different. This happens to me all the time. I never get wine for gifts because everyone 1) thinks I have all the wine I want (is that even possible?) or 2) since I am a wine professional, I won't like what they give me, so I get a tie. I love wine of all types and prices-fun ones, unique ones, weird ones-you name it. So, if you were to give wine as a gift which kind should you get? Well, that depends.
Doing Your Research
Giving wines as gifts requires a little bit of reconnaissance work on your part. First, does the person you are giving a gift to like wine or drink alcohol? If not, there is a very good chance your gift will be the gift that keeps on giving because they will be giving it away to someone else. If you've figured out they like wine, take a look at the wine they serve at home or keep in their cellar/rack/refrigerator. If most everything you see there are red wines, chances are that person drinks more red wine than white wine. Next time you visit their home, take a look at their stemware/glassware situation. If they have no champagne flutes, they may not be of the bubbly persuasion. A little pre-checking can help ensure a gift that is right on target.
Rare and Vintage Wines
I'm always getting the types of question like "what wine should I give my dad, it's his 70th birthday coming up and he likes wine." Where to start…first, I take them through the list above. After that, if you've narrowed it down to what kind of wine dad likes, why not take it a step further and take a look at his favorite wine. Either he's told you, or his rack is half full of that one producer, so that's a key right there. I've always said a special gift is to find a wine made by your gift recipient's favorite producer, but not just any old wine. Try to find a rare or unique wine. Here's an example. Say your dad is a big fan of Silver Oak Cabernet. Instead of going out and buying him one from the current vintage at the store, why not do a little research and look for an older vintage? Or better yet, how about a vintage with some meaning (birth date, marriage year, etc.) While this can get costly, it can be worth it to go the extra mile for special occasions.
Champagne!
Speaking of specific wine types, I personally think that Champagne is overlooked and underutilized for gifts. While usually slotted to Valentine's Day and anniversaries for the cork to pop, Champagne is a surprisingly versatile, long-lasting wine. Champagne is not only a great food wine, but it's a fun wine to open with cage twisting and cork popping-definitely something different and fun. Most people, as we said before, slot this wine into a once or twice a year category, but that is really short-changing yourself. Some French Champagnes are exquisite! If you buy the top-of-the-line Champagnes from the best houses (Roederer's Cristal, Moet et Chandon's Dom Perignon, Vintage Krug, Pol Roger, etc.) you can have a tremendous treasure in your hands. While not cheap, it's a special treat for a very special someone (especially if there is a good chance you'll be drinking it with them!)
Fun and Unique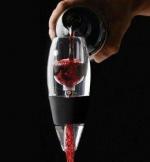 Dom Perignon
Another favorite trick in my playbook is to buy a fun/different bottle of their favorite varietal. If your friend is a big Zinfandel lover, why not try to get a Zinfandel that they've never had before? Or how about a Zin that has been rated highly, or that someone in the wine shop recommends? People in wine shops have a lot of experience-you should use them every chance you get (they know what's hot, new, etc.) If they like Zin, try getting one from another country! Same for other varietals too…it's fun to try other country's wine of the same type (New Zealand Sauvignon Blanc, German Gewurztraminer, French Pinot, etc). I've had great luck with this, and you frequently don't have to break the bank to do this successfully. Go shopping down the aisle yourself and look for fun bottles with weird names or shapes or colors. It should be fun for you, too.
Costly and Impressive
The last big idea is to buy the best you can find of the wine they like. This is a dangerous thing to do because it can cost you BIG money. I would make sure that the person knows how special the wine you give them is and make sure it's a good, good friend who will want to share with you too (just kidding…kind of). Here is an example. My grandmother turned 90 a few years back, and I wanted to get her a bottle of wine that was terrific. She is a big fan of Cabernet Sauvignons, so I went and bought her a bottle of Screaming Eagle. This is a cult wine, and usually very, very pricey. I bit the bullet, bought the wine, and shared it with her and the family on that special day. If you have a friend you want to give a great bottle of Burgundy (Pinot Noir) to, you can go to the best of the best and buy Domaine de la Romanee Conti. I'm talking serious cash here folks, so this isn't an everyday purchase by any means. But we all know that certain occasions in life require special over-the-top gifts.
Paying Off
So, just a few ideas. Everyone has their own likes and dislikes and wine favorites, etc. so it's hard to recommend a specific brand or varietal. So do your homework, learn as much as you can about the person you want to get the wine gift for, and you're sure to be the hit of the party. Cheers!