Not all wines and vintages age well, particularly when you're looking for red wines that extend back more than 40 years to 1975. When looking for the perfect bottle of 1975 vintage red wine, keep in mind that not every wine-producing region had a good year. While many 1975 vintage wines are now past their prime, there are others that will age for a few years longer, although the numbers are dwindling. Discover which 1975 vintage red wines are still a good bet to pick, and which are likely a pass.
About the 1975 Vintage for Red Wines
The 1975 vintage year was widely touted as the best vintage since 1961. The weather was supposedly perfect, and vintners around the world could do no wrong. This was true for many wine-making regions around the globe, but not all. Wondering which appellations and wine-making regions saw the best years? France was, by far, the big winner in 1975, with the exception of a few regions. Here are the others:
The Outstanding
These regions had excellent showings in 1975, although sadly none are best known for red wines.
The Above Average
A few regions and appellations while not considered "extraordinary" but still considered above average, deserve an honorable mention. Many of these regions do have good red wines, and as of 2019, a few are still worthy of drinking as a well-aged red.
The Mediocre to Poor
Here is a short list of the wine-producing regions that should be avoided when searching for a bottle of vintage 1975 red wine:
The Wine List
So, now that you have a little knowledge under your belt about the good and bad of the 1975 vintage, here is list of recommended red wines from that year, separated by grape varietal.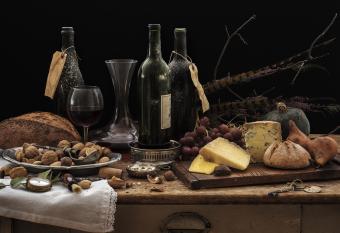 Bordeaux - Pick
The wines in Bordeaux were very tannic due to the weather and growing conditions that year. Current critics suggest the tannins may have outlived the fruit in many of the wines, but there are still a few you can either drink or hold.
Chateau La Mission Haut Brion - As of 2019, reviewers suggest the wine is perfectly aged. Pick up a bottle and drink now, although finding a bottle is exceedingly rare, so the price is around $2,000 for a 750 mL bottle.

Pessac-Leognan
Rated 100 points by Robert Parker and 90 by Wine Spectator

Chateau Petrus - One of Bordeaux's most sought after wines in any year, 1975 was a particularly good year, and the wine is breathtakingly expensive. However, this Pomerol is still well structured and drinking well as of 2019, although it may be nearing the end of its drinkability. Be warned, finding a Chateau Petrus of this age is rare, and the price of around $2,800 and up reflects this.

Pomerol
Rated 98 points by Robert Parker and 93 by Wine Spectator
Chateau Figeac - This wine continues to drink well as of 2019 according to reviewers, suggesting you can either drink or hold it for a few more years. If you can find a bottle, this is a great Premier Cru (first growth) Bordeaux at a reasonable price from a good vintage at under $200 per bottle.

Saint Emilion
Rated 87 points by Robert Parker
Bordeaux - Maybe
Some of Bordeaux's bottles have aged unevenly and may or may not drink well depending on important aspects such as storage conditions. For these bottles, if you have them in your cellar, drink them now. They may still be okay, but they likely won't last much longer, or you may find they have aged past their prime. It's probably best to pass on buying these bottles.
Chateau Lynch Bages - This wine was a good bottle for the price in 1975, but as of 2018 tasters are starting to note off flavors in the wine suggesting it was either improperly stored, or the wine has outlived its structure and won't drink well.

Pauillac
Rated 90 points by Wine Spectator

Chateau Cos d'Estournel - This is another wine that has likely started to age out. This second growth was good but not great when it came out, and current tasters as of 2019 suggest an increasingly number of flawed bottles with a few that have been carefully stored and preserved still showing well. Drink it if you've got it, but don't rush out to buy more.

St. Estephe
Rated 88 points by Wine Spectator
Cabernet Sauvignon - Pick
Cabernet Sauvignon is known for its aging potential because of the powerful tannins in the wines, particularly the muscular Cabernet Sauvignons that come from California.
Robert Mondavi Winery Cabernet Sauvignon Reserve - This wine is getting harder to find, although a bottle costs around $250 which isn't a fortune for a well-aged vintage red from Napa Valley. As of 2018, tasters felt the wine still had some aging potential in it, although it's probably approaching the outer limits. Drink soon, and if you buy it, plan on drinking it within a year or two.

Napa Valley, California
Rated 88 points by Robert Parker and 89 by Wine Spectator
Cabernet Sauvignon - Maybe
If you have these bottles, go ahead and give them a try as soon as possible but be prepared for the fact it may not have aged well. Don't buy if you find it in a shop, there's a good chance it's past its prime.
Beaulieu Vineyard Georges de Latour Private Reserve - This wine appears to be just hanging on to its drinkability as of 2018, but it's likely getting long in the tooth.

Napa Valley, California
Rated 85 points by Robert Parker and 83 by Wine Spectator

Heitz Cabernet Sauvignon Napa Valley Martha's Vineyard - Sadly, this wine appears to be over the hill now as of 2019. If you have a bottle, give it a try and don't plan on aging it a minute longer. If you can find a bottle on sale, don't invest as it's likely past its prime.

Napa Valley, California
Rated 90 points by Wine Spectator
A Cautionary Word About Vintages
Opinions regarding the best vintages for red wine vary as widely as opinions about good wine and bad wine. Not that opinions and ratings on wine vintages are completely arbitrary because weather is an important factor as to whether any particular year is a good wine year. Since weather is, of course, not the same all around the world, not all 1975 vintage red wine is going to be considered outstanding.
Is It Worth the Price?
Obviously, 1975 vintage red wines from regions like France and certain wines from the same year from California, are on the expensive side, with some being exorbitantly expensive. You have to ask yourself it is worth the price and if you pay attention to wine ratings, you will soon notice that the higher the rating by Robert Parker and Wine Spectator, the higher the price. Most importantly, many red wines from the 1975 vintage, at this point more than 40 years later, are past their prime. They probably aren't a great investment now, regardless of how good they were when they were first released.