Wine lovers, rejoice. There's no need to choose between wine and a cocktail when you can easily enjoy both. Wine makes a delicious cocktail when combined with other ingredients, such as fruit, liqueur, and soda. It's a great way to use up extra wine or to gussy up an inexpensive bottle, jug, or box of wine.
1. First Blush
This tasty cocktail uses Chambord and Moscato d'Asti, a lightly sweet frizzante wine. It's juicy and delicious with tiny bubbles that will tickle your nose. It makes one 4 1/2 ounce serving.
Ingredients
4 ounces Moscato d'Asti, chilled
1/2 ounce Chambord or some other raspberry liquor
Raspberries for garnish (optional)
Instructions
In a champagne flute, pour the Moscato d'Asti.
Gently pour in the Chambord.
Garnish with raspberries if desired.
2. Sparkling Sea Breeze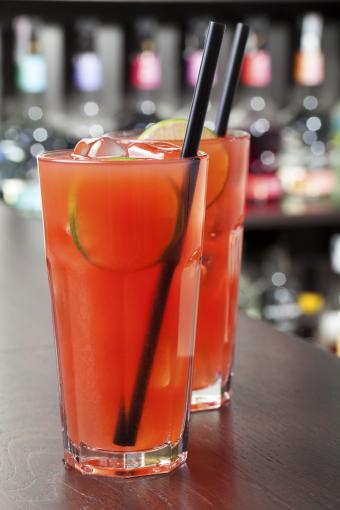 Adding white wine to a sea breeze cocktail takes it to a whole new level, adding a bit of complexity and some bubbles. If you don't wish to use Champagne or sparkling wine, you can also select a dry white wine, such as Sauvignon Blanc or Chardonnay. The recipe makes a pitcher that serves eight (4 oz. per serving), perfect for brunch or a garden party.
Ingredients
2 cups cranberry juice, chilled
2 cups vodka, chilled
2 cups pink grapefruit juice
750 mL (1 bottle) dry champagne or sparkling wine
Lime slices for garnish (optional)
Instructions
In a large pitcher, combine all ingredients.
Serve garnished with lime slices.
Pour over ice in a glass to serve.
3. Wine Cooler
Remember the '80s, when wine coolers were all the rage? This nostalgic cocktail harkens back to the days of big hair and Wham! on your stereo, and it's tasty to boot. It's, like, totally tubular. The recipe makes two 5-ounce servings.
Ingredients
4 ounces inexpensive dry white wine, chilled
6 ounces of lemon-lime soda, chilled
Juice of 1 lemon
Juice of 2 limes
1/2 ounce of grapefruit juice
1/2 ounce of pineapple juice
Dash of grenadine
Instructions
Combine all ingredients in a pitcher.
Pour into glasses, with ice if you wish. No garnish necessary. Gnarly!
4. Cool as a Cucumber
What? Cucumber and wine? Actually, when the wine is Champagne (or another dry, sparkling white wine), yes. It's refreshing, herbal, and really delicious. The recipe yields one 5-ounce serving.
Ingredients
3 cucumber slices, chilled, plus additional for garnish
1/3 ounce Benedictine or another herbal liqueur
Juice of 1/2 a lemon
5 ounces Champagne or sparkling white wine, chilled
Ice
Instructions
In a collins glass, combine the cucumber slices, Benedictine, lemon juice, and Champagne.
Stir gently. Allow to steep in the refrigerator for five minutes so cucumber can flavor the beverage.
Add ice, if desired. Garnish with additional cucumber slices.
5. Bittersweet
If you like the combination of sweet and bitter, then you'll enjoy the bittersweet, which uses a dessert style late harvest white wine and Campari, which is a bitter apéritif. This recipe makes one 6-ounce serving, but you can mix up a pitcher for a party.
Ingredients
Ice
1 ounce Campari
3 ounces sweet white wine, such as a late harvest Riesling
2 ounces freshly squeezed orange juice
Orange slice for garnish (optional)
Instructions
In a cocktail shaker filled with ice, shake the Campari, sweet white wine, and orange juice.
Strain into a Champagne flute.
Garnish with an orange slice if desired.
6. Bubbly Red
This one is easy - and surprisingly tasty. You don't need to buy expensive red wine for this. Box or jug wine is just fine, as long as it is dry and red. The recipe yields one 5 1/2 ounce serving.
Ingredients
4 ounces ginger ale, chilled
1 1/2 ounces dry red wine
Pomegranate arils for garnish (optional)
Instructions
In a glass, mix the ginger ale and red wine.
Garnish with the pomegranate seeds.