8 Italian Wine Gift Basket Ideas
Gifts from Italy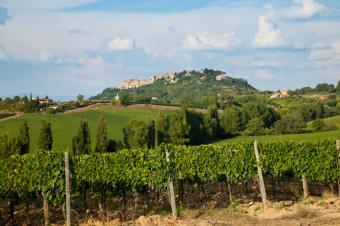 Italian wine gift baskets provide gifts from the Italian countryside filled with the wines and other products of Italy. You can center your baskets around red wines, whites, or even sparkling wines.
Prosecco
Make this Italian sparkler the centerpiece of a basket. From the Veneto region of Italy, Prosecco stands alone, or served with peach puree makes a Bellini.
Barbaresco or Barolo
Made from the Nebbiolo grape grown in Piedmont, flavorful Barbaresco or Barolo wines make a perfect red for a gift basket. These wines taste better with age, so the basket recipient can enjoy the other goodies and save this wine to enjoy later.
Pinot Grigio
The quintessential Italian white wine, Pinot Grigio brings to mind summers in Northern Italy, where the grapes are grown. Pinot Grigio makes the perfect wine around which to build an Italian picnic gift basket.
Amarone della Valpolicella
A rich and flavorful red, Amarone della Valpolicella is made with Corvina, Rondinella, and Molinara grapes that have been partially dried before pressing. The result is a voluptuous, deep, and concentrated red that will be the highlight of any gift basket.
Chianti
This traditional Italian table wine is a perennial favorite. Made from the Sangiovese grape, Chianti pairs well with all kinds of Italian flavors, and the distinctive bottle will give your gift basket an Old World appearance.
Moscatto d'Asti
This lightly effervescent light is a great introduction to Italian wine for novices. With its slight fizz and mildly sweet flavors of apricots and apples, Moscato d'Asti pairs well with desserts.
Super Tuscans
Gift the flavors of Tuscany with Super Tuscan wines, made from blends of grapes grown in Tuscany.
Italian Delicacies
Add Italian food delicacies to your wine gift basket, such as dried gnocci, olive oil, and a fruity traditional balsamico.
Other Wines
There are many other Italian wines you can add to an Italian wine basket, such as an accessible Dolcetto, a hearty Ripasso, a fruity Lambrusco, or a fragrant Barbera. Regardless of the wine you choose as your centerpiece, you will be gifting your loved ones with a delicious taste of Italy.