Free Printable Blind Wine Tasting Sheets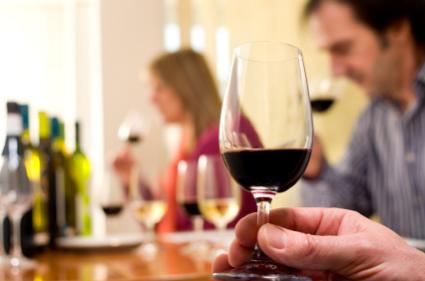 Add a little fun to your wine tasting experience by enjoying the wines "blind." Many who enjoy wine tasting like to experience the wines with little knowledge of what it is they are trying. Using a blind score sheet can give you an objective assessment of which wines you truly enjoy.
Wine Tasting Printable
The attached blind wine tasting printable is a great way to quantify your wine tasting experience. Download it, and you can use it when you either attend or host a wine tasting of your own. It offers some of the most common flavor and aroma terms for red and white wines, and also allows you to make your own notes about your experience. Use one sheet per wine tasted.
If you need help downloading the printable, check out these helpful tips.
Using a Blind Wine Tasting Sheet
At a blind wine tasting, you won't know what types of wines you are trying. Without benefit of the label or wine style, you are more likely to rely on the experience of the wine to tell you what you enjoy about the wine. Using a blind wine tasting sheet can facilitate this process. During a blind wine tasting, the wine labels are hidden and your host won't tell you what you are trying. Instead, the wine score card will call out the wines by numbers. As you undertake each step of the wine tasting process, you will note your impressions on the score sheet. Things to note include:
The color of the wine and how it clings to the side of the glass (this is known as the wine's legs)
The scents of the wine before and after you swirl it in the glass
How tannic the wine is
The way the wine coats your tongue and feels in your mouth (referred to as body)
The flavors of the wine
How long the wine lingers on your palate and how the flavors change as it lingers (known as finish)
You might also make notes about which wines you enjoyed the most, and, if you have an experienced palate, you might even place a guess as to what type of wine it is that you just tasted.
After you've tasted the wine, made your notes, and the wine has been revealed, you can compare your sheet to notes made by the other guests, or even experts.
Blind Wine Tasting Parties
Blind wind tasting parties are fun events, because they combine wine knowledge, gamesmanship, friends, and fun. At a blind wine tasting party, you may have guests guess the type of wine, the region of the wine, wine price, or even have guests taste all of the same varietal of wine with one different varietal and guess which is different. Hosts could even have printouts from expert notes made in review publications like Wine Spectator or Wine Advocate so they can compare their own notes.
Educational Fun
Whether you are hosting a party or visiting a shop that is hosting a blind wine tasting, you can learn more about wine and refine your palate by participating. Blind wine tasting is a terrific way to develop your palate and learn more about the flavors and aromas of wine.